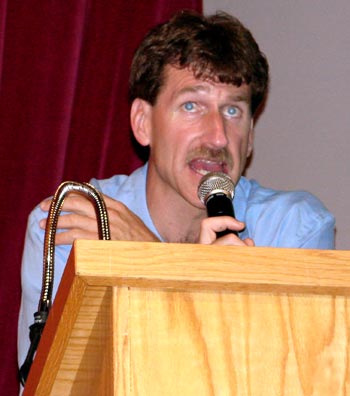 Jim delivering a presentation
Jim Gagne.com represents the finest of adventure presentations combining mountaineering, history, education and culture. His audience includes private and public organizations, public and private schools and universities. His custom presentations have captivated children to adults with his storytelling, humor and passion. He is inspiring and interacts with his audience while challenging them to reach for their extreme potential.

Recognized as one of the best known speakers, story tellers and adventurists of our time Jim's custom presentations focus on; what it takes to get to the top by way of: overcoming obstacles and adversity, how to remain flexible and dynamic in problem solving, having the flexibility to retreat, regroup, and try again when faced with setbacks, how to persevere in the face of the impossible, having the will to continue when it feels unfeasible to accomplish an extremely large goal, how to sustain belief in the goal, combining various strategies to fulfill a goal, the detrimental effects of individualism verses teamwork when working toward a common goal, demonstrating the tenacity and an unfaltering commitment to work through obstacles which is, necessary to succeed, managing change, preparation and planning, and many other topics.
Working with an elementary school class
"Dream Big Dare to Fail" is what Jim set out to do when he attempted to climb Mount Everest. Stricken with the debilitating, rib breaking Khumbu Cough which dropped him to his lowest physical capacity ever, then rescuing a fellow climber from Camp 3 and participating in several other rescues', left Jim to nearly sacrifice his own climbing objective. The odds of him succeeding were minimal. Despite medical and collective advice to leave, Jim was now forced to descend slowly to lower altitudes and come to terms with the possibility of failure. After days of soul searching Jim decided to soar in the face of all odds and make another bid for the summit. On his own unyielding will eight exhausting days later, Jim reached the summit of Mount Everest.

Rising above tremendous adversity and set backs on his climb to the top of the world and confronted with obstacles that would have defeated mountaineers and individuals with less drive is Jim's gripping story of his ascent of Mount Everest the world's highest mountain. Jim's warm personal style and sense of humor makes his insights about perseverance, determination, personal resourcefulness and teamwork, all the more compelling. The result is a downright captivating presentation that will not be forgotten.
Presentation Topics:
Jim can customize any presentation to meet your group's needs. Below are some examples of topics. He is also willing to combine topics to meet your needs.

• Mount Everest, with the culture of Nepal
• The Seven Summits of the World
• Custom Presentations may include; Any one of the Seven Summits
• Preparing for and Surviving Cold Weather Exposure
• Accidents and Injuries
• Teamwork



Click to contact Jim regarding scheduling a presentation.